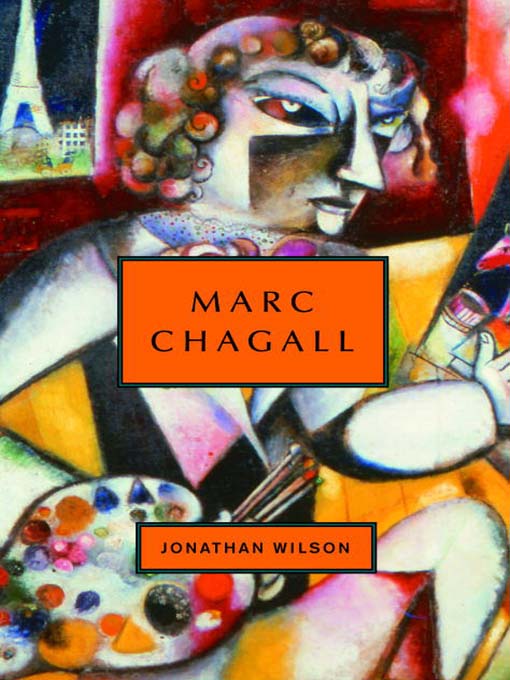 Marc Chagall
Format:

Kindle Book

2009

2009

Adobe EPUB ebook

OverDrive Read

Availability:

Available from OverDrive

1 of 1 copy
Summary
Part of the Jewish Encounter seriesNovelist and critic Jonathan Wilson clears away the sentimental mists surrounding an artist whose career spanned two world wars, the Russian Revolution, the Holocaust, and the birth of the State of Israel. Marc Chagall's work addresses these transforming events, but his ambivalence about his role as a Jewish artist adds an intriguing wrinkle to common assumptions about his life. Drawn to sacred subject matter, Chagall remains defiantly secular in outlook; determined to "narrate" the miraculous and tragic events of the Jewish past, he frequently chooses Jesus as a symbol of martyrdom and sacrifice.Wilson brilliantly demonstrates how Marc Chagall's life constitutes a grand canvas on which much of twentieth-century Jewish history is vividly portrayed. Chagall left Belorussia for Paris in 1910, at the dawn of modernism, looking back dreamily on the world he abandoned. After his marriage to Bella Rosenfeld...

Published Reviews
Booklist Review:
"Chagall's bewitching paintings of flying lovers, otherworldly cows, and enormous floating bouquets appear to be joyously romantic and exuberantly folkloric, but in fact they are poetic memorials to a doomed world. Chagall, a master of color who painted right up until his death at 97 in 1985, survived the brutal anti-Semitism of czarist and Soviet Russia, lost hundreds of paintings during World War I, and barely avoided the concentration camps when he fled Vichy France. Novelist Wilson, whose inventive way with words perfectly matches his subject's topsy-turvy visual lexicon, succeeds in illuminating in fresh and penetrating ways the mysteries and sorrows inherent in Chagall's complex work. He elucidates the influence of Hasidic mysticism, speculates about Chagall's chameleon-like personality and possible sexual ambiguity, eloquently articulates Chagall's Orphic/Cubist aesthetic, and revels in Chagall's best works. Wilson also cogently analyzes the Jewish painter's obsession with Christ and unsettling use of the Crucifixion as an icon of Jewish suffering. Ultimately, Wilson portrays Chagall as an artist trapped between apparently irreconcilable worlds that could only be unified in his work. --Donna Seaman Copyright 2007 Booklist"
From Booklist, Copyright (c) American Library Association. Used with permission.
Publisher's Weekly Review:
"Born Moishe Shagal in 1887, the son of a poor Orthodox Jewish laborer drew lifelong inspiration from his native Vitebsk, Belorussia. Chagall became famous for painting explosively colorful rooftop fiddlers, airborne cows and lovers floating above onion-domed churches, and a tallith-wrapped crucified Jesus. A victim of anti-Semitism who was ambivalent about his role as a Jewish artist, Chagall adorned churches and synagogues with stained-glass windows and often chose Christ as his symbol of martyrdom when depicting Jewish tragedies. Chagall's road to fame is mapped out by Wilson: his exposure, as a St. Petersburg student, to Matisse's dazzling palette; feverishly productive early years in Paris, where he absorbed an array of artistic influences; his immersion in politics in postrevolution Vitebsk, where he founded an art school; his return to Paris, where the legendary Vollard became his art dealer; and his New York exile during the Holocaust, where his beloved wife, Bella, died (he lived on for four more decades). Wilson's critiques (particularly of Chagall's "slippery" identity and his work's supposed sentimentality) are familiar, and this is less a fresh biography than a synthesis of writings by Benjamin Harshav, Chagall and his intimates. But Wilson (A Palestine Affair) is an incisive, lively writer. Domestic photos are included, but the omission of color reproductions of Chagall's oeuvre in this entry in the Jewish Encounters series is frustrating. (Mar. 13) (c) Copyright PWxyz, LLC. All rights reserved"
(c) Copyright PWxyz, LLC. All rights reserved
Additional Information