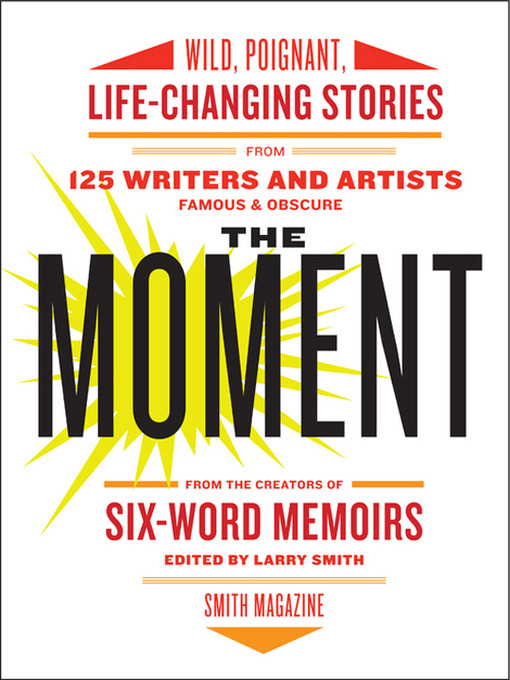 The moment wild, poignant, life-changing stories from 125 writers and artists famous & obscure
Format:

Kindle Book

2012

2012

Adobe EPUB ebook

OverDrive Read

Availability:

Available from OverDrive

1 of 1 copy
Summary
The creators of the best-selling Not Quite What I Was Planning present a collection of brief and moving personal stories about how a single instant, decision, accident, conversation or message prompted profound changes, in a treasury that includes contributions by such individuals as Melissa Etheridge, Justin Halpern and Jennifer Egan.

Contents
Introduction / Larry Smith
Flash / Caroline Paul
Chalk face / AJ Jacobs
Shot / Dean Karnazes
The envelope / Mo Clancy
Love in a time of illness / Diane Ackerman
Subdued by stroke / Paul West
Table time / Laurie David
Tattoo / Summer Pierre
The killer in me / Michael Paterniti
To worry / Amy Sohn
Near miss / Kirk Citro
Mom's favorite movie of all time / Craig A. Williams
A piece / Melissa Etheridge
Unexpected pleasure / Jonathan Papernick
Someday / Michael Forster Rothbart
No consolation / Neal Pollack
CheckPoints / Alaa Majeed & David Enders
Make love, not war / Jeremy Toback
Thank you, Lionel Richie / Matt Dojny
Assembly / Vivian Chum
The calling / Baratunde Thurston
Missed call / Annie Leahy
Wicked start / Gregory Maguire
Momento mori / Adam Rensch
The secret life of parents / Elizabeth Gilbert
John Updike sent me a fan letter (once) / Steve Almond
C-listed / Mary Elizabeth Williams
5RLG375 / Chris Sacca
My blue sticky / Fiona Maazel
Lives / Tao Lin
Teachable moment / Bill Ayers
Disappointment / Nevenka Kurjakovic
Divine intervention / Dan Goggin
Poem for the moment / Matthew Zapruder
Mr. Criche / Dave Eggers
Cornrows / Lori Sabian
Dancing, in green, to Ravel / Ellen O'Connell
Fluke / Danny Davis
Persephone / Micah Toub
Trash / Rigoberto González
Gonzo girl / Cheryl Della Pietra
Rimshot / Josh Axelrad
TITLE TK / Piper Kerman
Black like me / Haylee Harrel
Kitchen confidential / Michael Castleman
Horns / Shalom Auslander
What would Roland do? / Benjamin Percy
Fearless flyer / Ashley Van Buren
Hobo beginnings / Dale Maharidge
Why I adopted my son / Christoph Marshall
Why I adopted my dad / Eddie Comacho
Running / Mira Ptacin
At first sight / L. Nichols
Piazza San Marco / Julian Voloj
First kiss / Scott Muska
The Crüe / Sara Lovelace
Uncaged / Alan Rabinowitz
To the rescue / Ellen Sussman
The shed / Colin Nissan
Curtain call / Attila Kalamar
Photo finish / Kimberly Rose
True calm / Laura Cathcart Robbins
Wally & Beaver / Jeff Church
The sign / Caitlin Roper
The thin envelope / Sascha Rothchild
Liner notes / Elizabeth Jayne Liu
If I don't die today, I will marry Kristin Moore / Aaron Huey
Boot camp / Wes Moore
Sunset Strip / Christine MacDonald
Truth, lies, and audiotape / Dan Baum
Stage Direction / Saïd Sayrafiezadeh
February 12, 2009, 9:14 am / Daniel DiClerico
Balls out / James Cañón
Marooned / Kristen Cosby
Swerved / Darin Strauss
Meeting Allen Ginsberg / Steve Silberman
Those old keys / Alan Cheuse
Mission accomplished / Brian Evenson
Tell me how this ends / Pat Callahan
Keepsake / Jennifer Egan
E-3: October 25, 1986 / Molly Lawless
Landing / Paul Miller
The verdict / Byron Case
Nine lives / Peter Kuper
My front line / Jessica Lutz
Instructions / Julie Metz
Two fays / Dawn McMullin
2.10.01 / Julia Halprin Jackson
Like James Brown / Adrianne Frost
Crying for their dog / Richard Ferguson
The quest / Ramona Pringle
Early dismissal / Robin Wasserman
Burning up / Qraig R. de Groot
Maiden days / Judy Collins
Just a man / Nadja Cada
Motherless / Tamara Pokrupa-Nahanni
The ripple effect / Anthony Doerr
Positively 93rd Street / Matthew Leader
Smack talk / Melissa Febos
Firecracker / Arthur Suydam
The silver harmonica / Andrew D. Scrimgeour
Denial / Kathy Ritchie
Mercy / Steve Anthony Leasure
The hidden dangers of blood magic / Robert Joseph Levy
Blogging towards oblivion / Emily Steinberg
Sleeping bag / Hope Rehak
Trusting eyes / Jami Kempen
Ingress/egress / Jessica Anya Blau
Punchlines & knockouts / Patrick Sauer
Head case / Noah Scalin
In pursuit of optimism / Tony Schwartz
Far side / Katie Killacky
Grandma's dildo / Sara Barron
Oprah calling / Ray Richmond
Vietnam, revisited / Karol Nielsen
Conversation with my dad / Ashley Allen
Season's greetings / Ellen Jantzen
Revisionist history / Catherine Murdock
Forgiven / Jennifer Thompson
Second chance / Jerry Ma
Moving on / Mary Valle
Birth / John B. Carnett
The moth and the window / Stephen Tobolowsky
Tomorrowland / Rebecca Woolf.
Additional Information