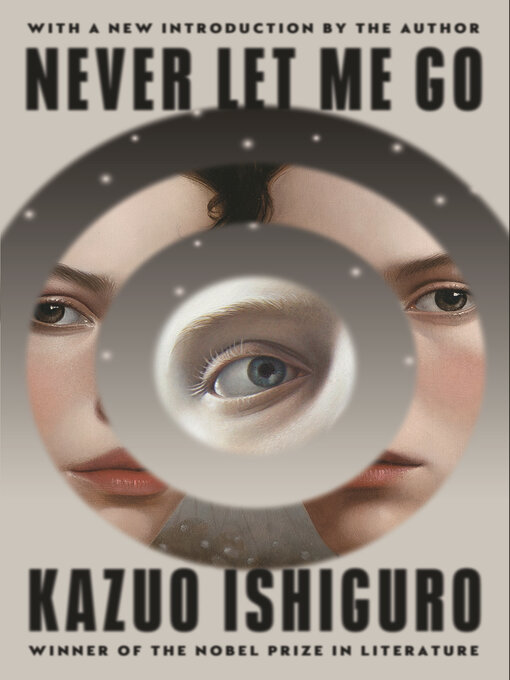 Never let me go
Format:

Kindle Book

2005

2005

Adobe EPUB ebook

OverDrive Read

Availability:

Unavailable

0 of 12 copies
3 people on waitlist
Summary
From the Booker Prize-winning author of The Remains of the Day and When We Were Orphans, comes an unforgettable edge-of-your-seat mystery that is at once heartbreakingly tender and morally courageous about what it means to be human. Hailsham seems like a pleasant English boarding school, far from the influences of the city. Its students are well tended and supported, trained in art and literature, and become just the sort of people the world wants them to be. But, curiously, they are taught nothing of the outside world and are allowed little contact with it. Within the grounds of Hailsham, Kathy grows from schoolgirl to young woman, but it's only when she and her friends Ruth and Tommy leave the safe grounds of the school (as they always knew they would) that they realize the full truth of what Hailsham is.

Published Reviews
Booklist Review:
"Kathy, Tommy, and Ruth were once classmates at Hailsham, a private school in the English countryside with a most unusual student body: human clones created solely to serve as organ donors. You were brought into this world for a purpose, advised Miss Lucy, one of Hailsham's guardians, and your futures, all of them, have been decided. The tightly knit trio experienced love, loss, and betrayal as they pondered their destinies (to become carers for other donors and, eventually, donors themselves). The novel is narrated by Kathy, now 31 and a carer, who recalls how Hailsham students were told and not told about their precarious circumstances. (Why were their writings and paintings so important? And who was the mysterious Madame who carted their creations away?) Ishiguro's provocative subject matter and taut, potent prose have earned him multiple literary decorations, including the French government's Chevalier dans l'Ordre des Arts et des Lettres and an Order of the British Empire for service to literature. (His Booker Prize-winning novel, The Remains of the Day, was adapted into a critically acclaimed film). In this luminous offering, he nimbly navigates the landscape of emotion--the inevitable link between present and past and the fine line between compassion and cruelty, pleasure and pain. --Allison Block Copyright 2005 Booklist"
From Booklist, Copyright (c) American Library Association. Used with permission.
Publisher's Weekly Review:
"Like Ishiguro's previous works (The Remains of the Day; When We Were Orphans), his sixth novel is so exquisitely observed that even the most workaday objects and interactions are infused with a luminous, humming otherworldliness. The dystopian story it tells, meanwhile, gives it a different kind of electric charge. Set in late 1990s England, in a parallel universe in which humans are cloned and raised expressly to "donate" their healthy organs and thus eradicate disease from the normal population, this is an epic ethical horror story, told in devastatingly poignant miniature. By age 31, narrator (and clone) Kathy H has spent nearly 12 years as a "carer" to dozens of "donors." Knowing that her number is sure to come up soon, she recounts-in excruciating detail-the fraught, minute dramas of her happily sheltered childhood and adolescence at Hailsham, an idyllic, isolated school/orphanage where clone-students are encouraged to make art and feel special. Protected (as is the reader, at first) from the full truth about their eventual purpose in the larger world, "we [students] were always just too young to understand properly the latest piece of information. But of course we'd take it in at some level, so that before long all this stuff was there in our heads without us ever having examined it properly." This tension of knowing-without-knowing permeates all of the students' tense, sweetly innocent interactions, especially Kath's touchingly stilted love triangle with two Hailsham classmates, manipulative Ruth and kind-hearted Tommy. In savoring the subtle shades of atmosphere and innuendo in these three small, tightly bound lives, Ishiguro spins a stinging cautionary tale of science outpacing ethics. Agent, Amanda Urban at ICM. 100,000 first printing; 9-city author tour. (Apr. 11) (c) Copyright PWxyz, LLC. All rights reserved"
(c) Copyright PWxyz, LLC. All rights reserved
Additional Information