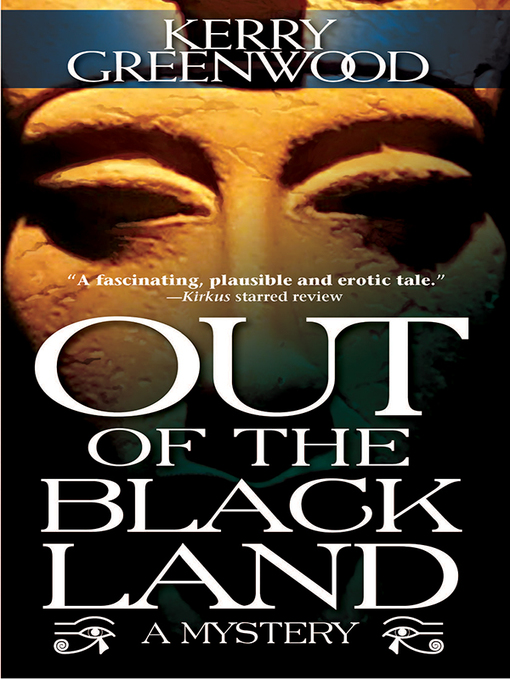 Out of the black land a mystery
Format:

Adobe EPUB ebook

2013

2013

OverDrive Read

Availability:

Available from OverDrive

1 of 1 copy
Summary
Ptah-hotep, a young peasant boy studying to be a scribe, wants to live a simple life in a Nile hut with his lover Kheperren and their dog Wolf. But Amenhotep IV appoints him as Great Royal Scribe. Surrounded by bitterly envious rivals and enemies, how long will Ptah-hotep survive?

Published Reviews
Booklist Review:
"Greenwood, the Australian author of the Phryne Fisher and Corinna Chapman mystery series, heads off in a radical new direction. Her new novel is set in ancient Egypt around the time of Nefertiti and Tutankhamen and concerns itself with a pharaoh's grand some might say megalomaniacal plan to change the religious landscape of the country. There are also several subplots winding themselves in and around the main story (Nefertiti figures prominently in one), and the story is told in roughly alternating fashion by a pair of young scribes, one of them a sister to Nefertiti, the other a lower-class boy who dreams of a better life. Greenwood has taken a big risk here. Ancient Egypt as a source of literary material has been pretty well mined. But the novel feels fresh, partly because Greenwood isn't insisting on shoehorning a traditional mystery plot into the book. She's working on a much broader, epic scale that almost suggests Norman Mailer's Ancient Evenings (1983). A real change of pace, but the majority of the author's fans won't be disappointed.--Pitt, David Copyright 2010 Booklist"
From Booklist, Copyright (c) American Library Association. Used with permission.
Publisher's Weekly Review:
"Australian author Greenwood, having made a name for herself with the lighthearted Phryne Fisher series (Cocaine Blues, etc.), succeeds brilliantly with this gripping thriller set in ancient Egypt. In 1335 B.C.E., the ascension of a new pharaoh, Akhnaten, sends the country into turmoil. The ruler, who holds the heretical religious view that there's only one god, acts to spread this idea by banning the worship of the traditional deities. Two charismatic figures-Ptah-hotep, plucked from obscurity to become the Great Royal Scribe (who acts "as auditor for the whole of the nation"), and Mutnodjme, Akhnaten's sister-in-law-display a gift for surviving palace intrigue. The author is especially good at conveying the nitty-gritty details of life at the time. For example, Ptah-hotep is advised to keep an eye out for tax cheating concerning fish and turtles. If not quite in the same class as Nick Drake's mysteries set in ancient Egypt (Nefertiti: The Book of the Dead, etc.), this is close enough to make historical fiction fans hope that Greenwood isn't done with this period. (Feb.) (c) Copyright PWxyz, LLC. All rights reserved."
(c) Copyright PWxyz, LLC. All rights reserved
Additional Information