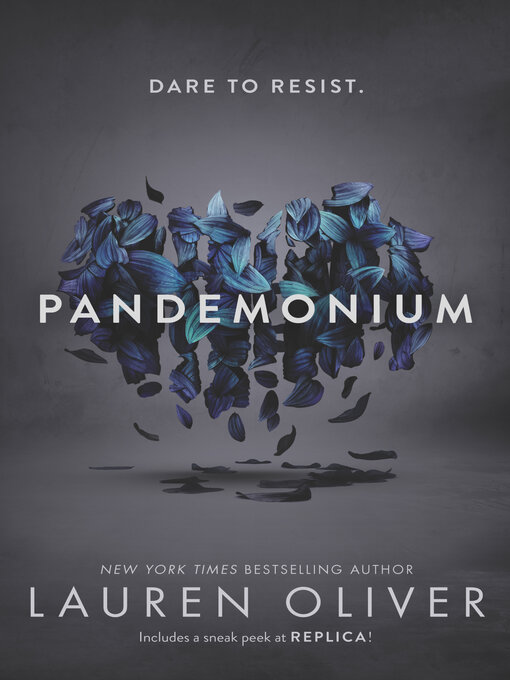 Pandemonium
Format:

Kindle Book

2012

2012

Adobe EPUB ebook

OverDrive Read

Availability:

Unavailable

0 of 1 copy
Summary
After falling in love, Lena and Alex flee their oppressive society where love is outlawed and everyone must receive "the cure"--an operation that makes them immune to the delirium of love--but Lena alone manages to find her way to a community of resistance fighters, and although she is bereft without the boy she loves, her struggles seem to be leading her toward a new love.

Published Reviews
Booklist Review:
"Having evaded the required government procedure that eliminates amor deliria nervosa (aka love) at the end of Delirium (2011), Lena now lives in the Wilds among the Invalids other migratory uncureds who plot to raise awareness of the evils of living without passion. In this swift, cunning sequel, Oliver splits the time line between Lena's early acceptance into the group (and mourning of her lost love, Alex) and a later maneuver that goes awry when a splinter group known as the Scavengers kidnaps both Lena and Julian the current poster boy for the benefits of the procedure. Thrown together, the two begin to have strong feelings for each other, and Oliver gets a lot of play out of Julian's virginal arousals at the very touch of a female. Whereas Delirium felt more like fantasy, this is a romance in the purest of senses, where just the longing for the faintest taste of love is worth the greatest of risks. Like all successful second volumes, this expands the world and ups the stakes, setting us up for the big finale. HIGH-DEMAND BACKSTORY: Delirium was the kind of book that inspired breathless teen reviews and the publication of special editions. Expect the same here, with two book tours, heavy advertising, and floor displays.--Kraus, Daniel Copyright 2010 Booklist"
From Booklist, Copyright (c) American Library Association. Used with permission.
Additional Information