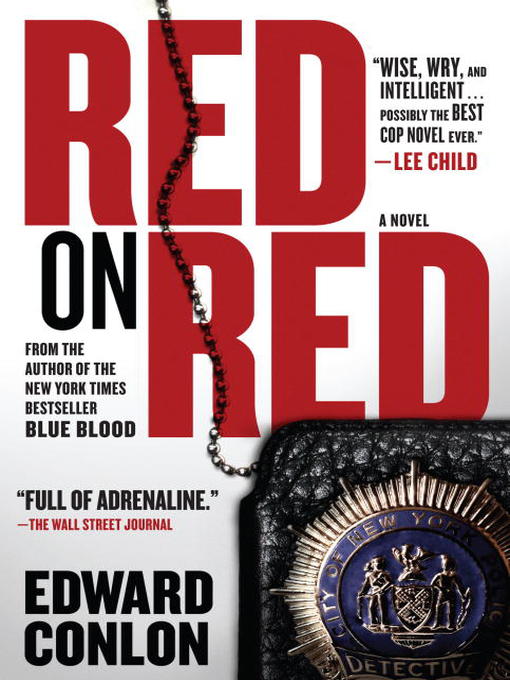 Red on red a novel
Format:

Kindle Book

2011

2011

Adobe EPUB ebook

OverDrive Read

Availability:

Available from OverDrive

1 of 1 copy
Summary
NYPD detectives Meehan and Esposito have very different personalities, but their friendship develops as they investigate a variety of mysteries, including a lonely immigrant who hangs herself in Inwood Hill Park, a serial rapist in upper Manhattan, a troubled Catholic schoolgirl who constantly ends up in the wrong place, and a ruthless gang war.

Published Reviews
Booklist Review:
"*Starred Review* Harvard-educated former NYPD officer Conlon wrote about life on the force in his well-received memoir, Blue Blood (2004), the basis for the popular TV show. And, like Joseph Wambaugh, another officer turned fiction writer, Conlon brings his full knowledge of police work to bear in this gritty chronicle of the constant challenges facing Irishman Meehan and his new Latino partner, Esposito, while they work their beat in the Washington Heights neighborhood of Manhattan. As the duo veer from the scene of a suicide to a mistaken death identification to a gun battle at a gang member's funeral to an investigation of a serial rapist, they prove to be complementary, with Meehan taking a measured, more cerebral approach while Esposito charges right in, sometimes skirting departmental regulations to effect the right outcome. Meehan, distracted by his impending divorce and the ill health of his father, must also contend with his own divided loyalties as he confers with the IAB about his new partner, one of the stipulations he agreed to upon taking his new and better job. Conlon captures the herky-jerky nature of a policeman's daily routine as it swings between farce and tragedy, all the while detailing the way cops talk, joke, and stress. This realistic take on police work, relayed in cinematic prose, has all the earmarks of a hit.--Wilkinson, Joanne Copyright 2010 Booklist"
From Booklist, Copyright (c) American Library Association. Used with permission.
Publisher's Weekly Review:
"Talk about a policeman's lot not being a happy one. NYPD detective Nick Mehan, the protagonist of NYPD detective Conlon's debut novel, is repressed and depressed and, thanks to his situation, not likely to be in for a mood change. In order to get reassigned to a better precinct, he's agreed to partner with a rule-bending investigator named Esposito and report on his partner's activities to Internal Affairs. That job gets tougher when he develops a close friendship with the charismatic, outgoing Espo. Mark Deakins has a field day defining and contrasting the two men vocally. His Nick speaks softly and thoughtfully, with just a hint of self-pity. Espo is brash and full of bravura, but there's a slightly tinny tone to his overconfidence. There is a lot of plot, not to mention police procedure, in this 17-hour tale, beginning with an apparent suicide and including several shootouts, a gang war, mistaken identity, and the hunt for a serial rapist. Deakins has no trouble keeping up with Conlon's relentless prose and adding another layer to the author's carefully crafted secondary characters, but his most notable achievement is his audio portrayal of the two partners as they push the bonds of friendship to the breaking point. A Spiegel & Grau hardcover. (May) (c) Copyright PWxyz, LLC. All rights reserved."
(c) Copyright PWxyz, LLC. All rights reserved
Additional Information