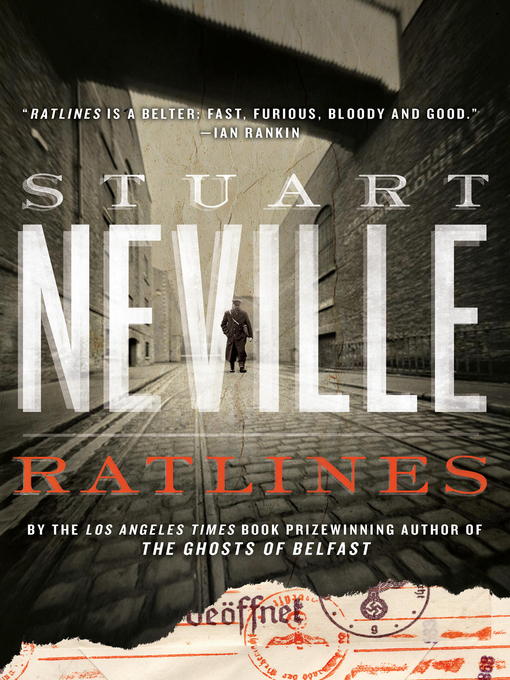 Ratlines
Format:

Kindle Book

2013

2013

Adobe EPUB ebook

OverDrive Read

Availability:

Unavailable

0 of 1 copy
Summary
Ireland 1963. As the Irish people prepare to welcome President John F. Kennedy to the land of his ancestors, a German national is murdered in a seaside guesthouse. Lieutenant Albert Ryan, Directorate of Intelligence, is ordered to investigate. The German is the third foreigner to die within a few days, and Minister for Justice Charles Haughey wants the killing to end lest a shameful secret be exposed: the dead men were all Nazis granted asylum by the Irish government in the years following World War II. A note from the killers is found on the dead German's corpse, addressed to Colonel Otto Skorzeny, Hitler's favorite commando, once called the most dangerous man in Europe. The note simply says: "We are coming for you." As Albert Ryan digs deeper into the case he discovers a network of former Nazis and collaborators, all presided over by Skorzeny from his country estate outside Dublin. When Ryan closes in on the killers, his loyalty is torn between country and conscience. Why must he protect the very people he fought against twenty years before? Ryan learns that Skorzeny might be a dangerous ally, but he is a deadly enemy.

Published Reviews
Booklist Review:
"Students of history and readers of historical-crime fiction are used to finding Nazis in the unlikeliest places but Ireland? That's one refuge many of us may have missed. It's 1963, and Lieutenant Albert Ryan of the Directorate of Intelligence is tasked with solving a string of murders. The dead were all Nazis and collaborators, and on the eve of JFK's presidential visit, their identities could prove embarrassing to his hosts. The investigation proves a minefield, with Ryan unsure whether he's reporting to the minister of justice, Charles Haughey, or Otto Skorzeny, a renowned Nazi commando now living quite comfortably on the Emerald Isle (Slorzeny obviously has a personal interest in the case). Neville writes wonderfully, setting the scene in precise, economical prose; pitting well-defined, historically inspired characters in opposition to each other; and tangling the plotlines tantalizingly. If he goes astray at all, it's after a gruesome plot turn that renders Ryan helpless, with nearly all of his subsequent action passive or reactive. With a character this strong, we want to see him fight to the finish. HIGH-DEMAND BACKSTORY: Given the acclaim for Neville's prize-winning Belfast Trilogy (Stolen Souls, 2011; Collusion, 2010; The Ghosts of Belfast, 2009), Soho is betting big on this one with a $150,000 marketing campaign, a national tour, and big pushes at BEA and ALA.--Graff, Keir Copyright 2010 Booklist"
From Booklist, Copyright (c) American Library Association. Used with permission.
Publisher's Weekly Review:
"Set on the eve of President Kennedy's 1963 visit to Ireland, this thrilling, historically informed stand-alone from Irish author Neville (Stolen Souls) charts the efforts of Irish intelligence officer Albert Ryan to discover who murdered three Nazis granted asylum in Ireland after WWII. Ryan has to be wary of real-life Col. Otto Skorzeny, one of the most dangerous surviving Nazis, to whom a note on one of the bodies was addressed: "We are coming for you." In his digging, Ryan learns of the titular "ratlines," the secret routes use to ferry postwar Nazis from one safe place to another. Complicating Ryan's investigation is his growing attraction to Celia Hume, a woman of mysterious means whose job it is to charm important men and ascertain secrets. As Ryan tracks the killer, he meets Mossad agent Goren Weiss, who's intent on getting to Skorzeny. Readers will hope to see more of Ryan, a formidable yet damaged hero. Agent: Nat Sobel, Sobel Weber Associates. Author tour. (Jan.) (c) Copyright PWxyz, LLC. All rights reserved."
(c) Copyright PWxyz, LLC. All rights reserved
Additional Information