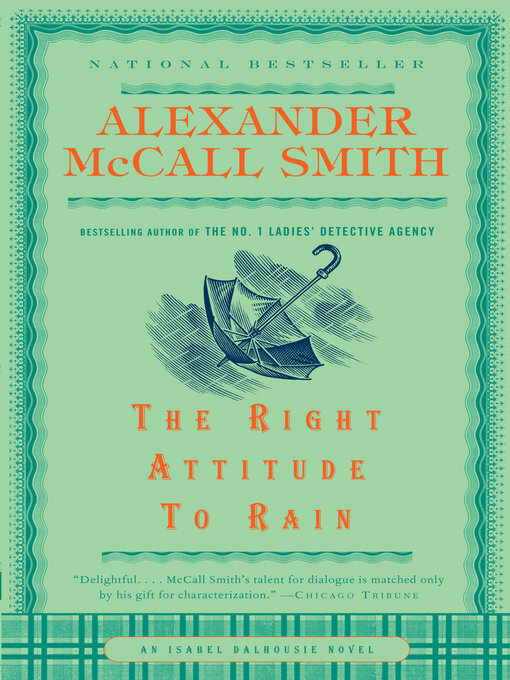 The right attitude to rain Isabel Dalhousie Series, Book 3
Format:

Kindle Book

2006

2006

Adobe EPUB ebook

OverDrive Read

Availability:

Available from OverDrive

1 of 1 copy
Summary
Nothing captures the charm of Edinburgh like the bestselling Isabel Dalhousie series of novels featuring the insatiably curious philosopher and woman detective. Whether investigating a case or a problem of philosophy, the indefatigable Isabel Dalhousie, one of fiction's most richly developed amateur detectives, is always ready to pursue the answers to all of life's questions, large and small.The delectable new installment in the bestselling and already beloved adventures of Isabel Dalhousie and her no-nonsense housekeeper, Grace.When friends from Dallas arrive in Edinburgh and introduce Isabel to Tom Bruce -- a bigwig at home in Texas -- several confounding situations unfurl at once. Tom's young fiancée's roving eye leads Isabel to believe that money may be the root of her love for Tom. But what, Isabel wonders, is the root of the interest Tom begins to show for Isabel herself? And she can't...

Published Reviews
Booklist Review:
"Prolific Scottish novelist McCall Smith is best known for the delightful--and phenomenally popular--No. 1 Ladies' Detective Agency series. His second mystery series, featuring Scottish American moral philosopher Isabel Dalhousie, is a charmer, too, and steadily growing in popularity. In this third installment, Isabel, fortysomething and well to do (her mother left her a sizable inheritance, much of which she donates anonymously to charity), once again finds herself in several ethical dilemmas. Houseguests from Dallas introduce her to an affable and affluent fellow Texan, whose flighty fiancee seems less interested in his character than his cash. Meanwhile, Isabel must come to terms with her feelings for Jamie, her niece's handsome former suitor. (He's 14 years Isabel's junior, but should age really matter when it comes to matters of the heart?) Isabel's predilection for passing judgment occasionally comes off as preachy, but her assessments of human foibles are both hilarious and shrewd. Even the most erudite among us can't always suppress inappropriate urges, advises Isabel, illustrating her point with the tale of a Cambridge classicist who vociferously opines on the girth of a visiting scholar's wife. Adding to the pleasures here are McCall Smith's wealth of heady references, from W. H. Auden and Robert Graves to Catullus and Kant. --Allison Block Copyright 2006 Booklist"
From Booklist, Copyright (c) American Library Association. Used with permission.
Publisher's Weekly Review:
"The third novel featuring well-to-do and somewhat-nosy philosopher Isabel Dalhousie continues McCall Smith's exploration of the rights and wrongs of everyday life, with Isabel's thoughtful presence providing decidedly more intellectual punch than the No. 1 Ladies' Detective Agency. When Jamie, a young musician, begins to show interest in Isabel, her stirred feelings threaten to overwhelm her even keel, throwing her into ethical crisis. To what degree are our lives dictated by biological imperatives and desires? Does the meaning of art arise from the art itself or its audience? Are white lies permissible, and if so, when? What does the well-off individual owe the homeless man on the corner? Out-of-town visitors to Edinburgh Americans, no less provide further touchstones for all manner of ethical mulling as well as the grist of the book's mystery: does Angie, a young, inscrutable woman betrothed to a wealthy Dallas bachelor, Tom Bruce, have her eyes set on true love or money? At times Isabel's intense dedication to mindfulness borders on the didactic, but love comes to the rescue, nicely illustrating the book's most important philosophical puzzle: how is it that people find real happiness, and what does it have to do with loving rather than thinking? (Sept. 19) (c) Copyright PWxyz, LLC. All rights reserved"
(c) Copyright PWxyz, LLC. All rights reserved
Additional Information