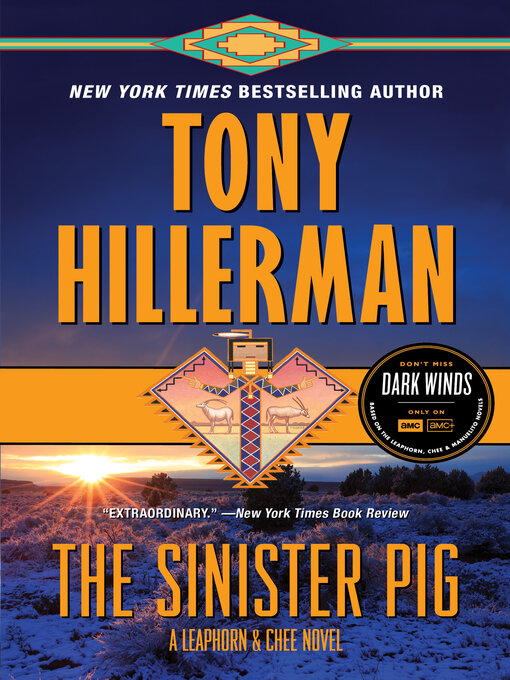 The sinister pig
Format:

Kindle Book

2009

2009

Adobe EPUB ebook

OverDrive Read

Availability:

Unavailable

0 of 1 copy
Summary
When Navajo Tribal Police Sergeant Jim Chee finds the victim--stripped of an identity--he calls on a Washington mogul, a crooked customs official, a Mexican smuggler, and the legendary Joe Leaphorn to solve the puzzle: why did the FBI cover up the case? Are billions of embezzled dollars at stake?

Published Reviews
Booklist Review:
"A barren desert landscape is quickly filled with Navajo tribal police, customs patrol officers, and the FBI when a dumped, unidentifiable body is discovered on the Navajo Reservation. The gathering of experts gives Hillerman the chance to bring back both Lieutenant Joe Leaphorn, whom he retired but can't bear to live without, and Officer Bernie Manuelito, now reassigned to the customs patrol and still ambivalent about her on-again, off-again romance with Sergeant Jim Chee. So it's old-home week at Four Corners, as Chee, Leaphorn, and Manuelito bring their separate skills and peccadilloes to a mystery that branches far, far off from the body in the desert. Chee and Leaphorn find that the body is connected to the investigation of an ongoing scheme to bilk the Tribal Trust Fund of billions of dollars of royalties from use of the Four Corners oil pipeline. Manuelito finds a connection with the smuggling of cocaine and illegals from Mexico. They all discover that the FBI and others very much want to halt their investigations. Events turn treacherous when Manuelito, identified by the good-luck pin she wears on her lapel, is stalked by one very scary drug-running villain. As always with Hillerman, an intricate pattern of ingenious detective work, comic romance, tribal custom, and desert atmosphere provide multifaceted reading pleasure. ConnieFletcher."
From Booklist, Copyright (c) American Library Association. Used with permission.
Publisher's Weekly Review:
"Bestseller Hillerman's 16th Chee/ Leaphorn adventure offers deeper intrigue and a tighter plot than his previous entry, The Wailing Wind (2002), in this enduring series. When the body of an undercover agent, who's been looking for clues to the whereabouts of billions of dollars missing from the Tribal Trust Funds, turns up on reservation property near Four Corners, Navajo cop Sgt. Jim Chee and Cowboy Dashee, a Hopi with the Federal Bureau of Land Management, investigate. But the book's real star is officer Bernadette "Bernie" Manuelito, Chee's erstwhile romantic interest, now working in the New Mexico boot heel for the U.S. Border Patrol. The miles have only strengthened her feelings for Chee-and vice versa. A routine patrol puts Bernie on the trail of an operation involving some old oil pipelines that connects to the Four Corners murder. Meanwhile, Joe Leaphorn is checking into the same murder from another direction. The three lines converge on a conspiracy of drugs, greed and power, and those who most profit, including the "sinister pig" of the title, will stop at nothing to keep it a secret. With his usual up-front approach to issues concerning Native Americans such as endlessly overlapping jurisdictions, Hillerman delivers a masterful tale that both entertains and educates.(c) Copyright PWxyz, LLC. All rights reserved All rights reserved."
(c) Copyright PWxyz, LLC. All rights reserved
Additional Information