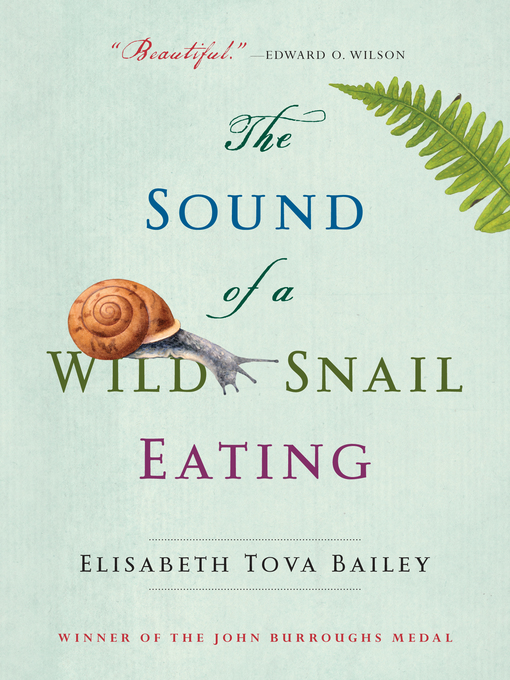 The Sound of a Wild Snail Eating A Memoir
Format:

Kindle Book

2010

2010

Adobe EPUB ebook

OverDrive Read

Availability:

Available from OverDrive

2 of 3 copies
Summary
"In a work that beautifully demonstrates the rewards of closely observing nature, Elisabeth Bailey shares an inspiring and intimate story of her uncommon encounter with a Neohelix albolabris -a common woodland snail. While an illness keeps her bedridden, Bailey watches a wild snail that has taken up residence on her nightstand. As a result, she discovers the solace and sense of wonder that this mysterious creature brings and comes to a greater under standing of her own confined place in the world. Intrigued by the snail's molluscan anatomy, cryptic defenses, clear decision making, hydraulic locomotion, and mysterious courtship activities, Bailey becomes an astute and amused observer, providing a candid and engaging look into the curious life of this underappreciated small animal. Told with wit and grace, The Sound of a Wild Snail Eating is a remarkable journey of survival and resilience, showing us how a small part of the natural world illuminates our own human existence and provides an appreciation of what it means to be fully alive."--

Contents
The violet-pot adventures. Field violets ; Discovery ; Explorations
A green kingdom. The forest floor ; Life in a microcosm ; Time and territory
Juxtapositions. Thousands of teeth ; Telescopic tentacles ; Marvelous spirals ; Secret recipes
The cultural life. Colonies of hermits ; Midnight leap ; A snail's thoughts ; Deep sleep
Love and mystery. Cryptic life ; Affairs of a snail ; Bereft ; Offspring
Familiar territory. Release ; Winter snail ; Spring rain ; Night stars
Appendix. Terraria.
Published Reviews
Booklist Review:
"*Starred Review* At age 34, Bailey was stricken with a mysterious virus while on a trip to Europe. Her healthy life had been full of activity, and now just the thought of getting up to get something was exhaustive. When a friend found some violets and brought her one in a pot, she also added a live snail below the violet's leaves. Bailey wondered why she needed a snail, but after square holes began to appear in a letter propped on the violet's pot, it occurred to Bailey that the snail needed food. She put a withered flower in the saucer below, and when the snail began to eat, Bailey realized that she could hear it eating it was the sound of someone very small munching on celery. Soon the author realized she was attached, the snail providing an oasis of calm for her frantic and frustrated thoughts. She worried that the snail's world was too artificial, so her caregiver created a woodland terrarium. Not only did the snail have a new home but Bailey had a new game: hide-and-seek with a snail. She began to read about snails, learning from scientists, early naturalists, poets, and writers, and found herself beginning to understand a snail's world. And when her snail began to lay eggs, Bailey discovered that she might be the first person to record observations of a snail tending its eggs. This beautiful little book will not only make snail lovers of its readers, it will make them appreciate the small things in life.--Bent, Nancy Copyright 2010 Booklist"
From Booklist, Copyright (c) American Library Association. Used with permission.
Additional Information