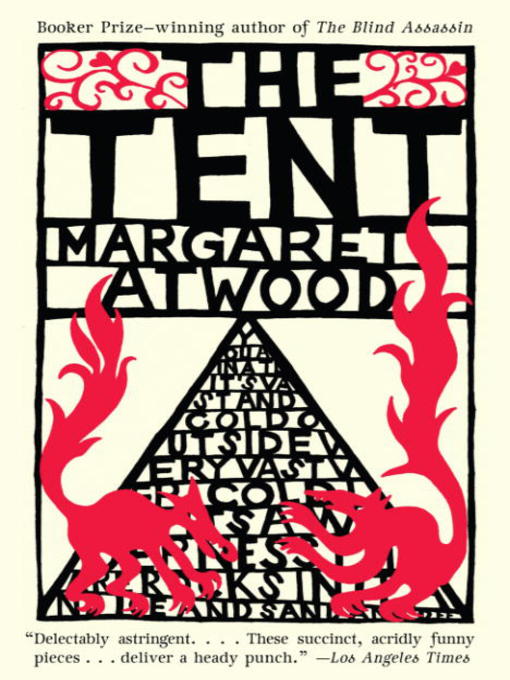 The tent
Format:

Kindle Book

2007

2007

Adobe EPUB ebook

OverDrive Read

Availability:

Unavailable

0 of 1 copy
Summary
From the #1 New York Times bestselling author of The Handmaid's TaleIn this delightful mélange of short fiction, Margaret Atwood pushes the boundaries of form in intriguing directions. Alongside meditations on warlords, cat heaven, and orphans, she offers a sly pep talk to the ambitious young, laments the proliferation of photos of oneself, imagines an apocalypse of worms, and recalls Helen of Troy's childhood Kool-Aid stand. In the title fable, a writer huddled inside a tent of paper engages in doodling as self-defense, scribbling on the walls in a frantic attempt to keep out encroaching horrors. Adorned with her own playful illustrations, The Tent is replete with Atwood's droll humor, keen insight, and lyric brilliance.

Contents
Life stories
Clothing dreams
Bottle
Impenetrable forest
Encouraging the young
Voice
No more photos
Orphan stories
Gateway
Bottle II
Winter's tales
It's not easy being half-divine
Salome was a dancer
Plots for exotics
Resources of the Ikarians
Our cat enters heaven
Chicken Little goes too far
Thylacine ragout
The animals reject their names and things return to their origins
Three novels I won't write soon
Take charge
Post-colonial
Heritage house
Bring back mom: an invocation
Horatio's version
King Log in exile
Faster
Eating the birds
Something has happened
Nightingale
Warlords
The tent
Time folds
Tree baby
But it could still.
Published Reviews
Booklist Review:
"Pithy and stinging, a master of deadpan humor and pinpoint satire, Atwood has made the brief monologue her own. As in her previous collection of miniatures, Good Bones and Simple Murders0 (1994), Atwood adeptly parodies fairy tales and fables, and offers unnerving twists on confessions, and vignettes, some accompanied by her playful drawings. One narrator recounts a recurring dream of dreadful clothes. Another concise tale perfectly encapsulates the divide between men and women. "Resources of the Ikarians," an account of the remarkably thuggish population of a small, out-of-the-way island, is caustic and hilarious. Impish and incisive, Atwood neatly dissects our habit of seeing the world in terms of "we" and "them," and our refusal to face the facts of environmental degradation. In the poetic title piece, she creates one of the most devastating visions ever penned of a writer's attempt to make a shelter out of words. "All observations about life are harsh, because life is," Atwood writes, and yet we persist, driven by desire and hope, and buoyed by stories. --Donna Seaman Copyright 2005 Booklist"
From Booklist, Copyright (c) American Library Association. Used with permission.
Publisher's Weekly Review:
"Biting anger, humor and interest in the fantastic have marked inimitable Atwood works like The Handmaid's Tale, The Blind Assassin and Oryx and Crake. In this odd set of terse, mostly prose ripostes, Atwood takes stock of life and career-"this graphomania in a flimsy cave"-and finds both come up short. Staged from behind screens of updated fables and myths ("Salome Was a Dancer" begins "Salome went after the Religious Studies teacher"), the pieces rage icily against the constraints of gender, age (witheringly: "I have decided to encourage the young"), fame and even "Voice": "What people saw was me. What I saw was my voice, ballooning out in front of me like the translucent green membrane of a frog in full trill." Along with a few poems and childlike line drawings, what keeps this collection of 30-odd fictions from being a set of rants is the offhanded intimacy and acerbic self-knowledge with which Atwood delivers them: "The person you have in mind is lost. That's the picture I'm getting." Threaded throughout are dead-on asides on the tyrannies of time and the limits of truth telling in society, so that when Hoggy Groggy hires Foxy Loxy to silence Chicken Little forever, there is no doubt with whom the author's sympathies lie. (Jan. 10) (c) Copyright PWxyz, LLC. All rights reserved"
(c) Copyright PWxyz, LLC. All rights reserved
Additional Information