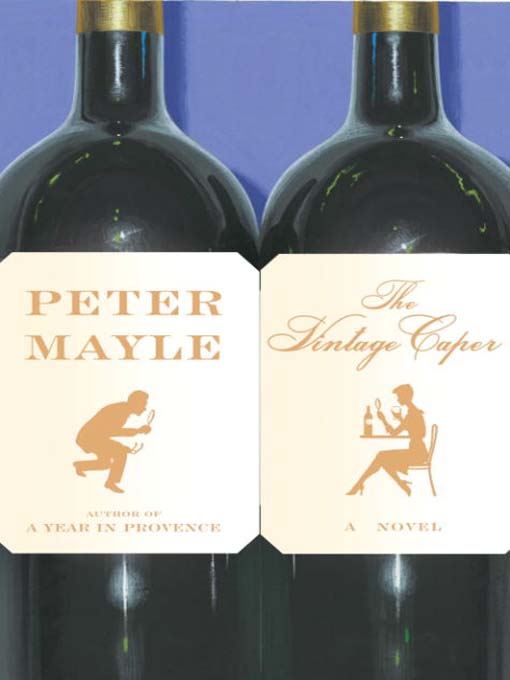 The vintage caper
Format:

Kindle Book

2009

2009

Adobe EPUB ebook

OverDrive Read

Availability:

Available from OverDrive

2 of 2 copies
Summary
The story begins high above Los Angeles, at the extravagant home and equally impressive wine cellar of entertainment lawyer Danny Roth. After inviting the "Los Angeles Times" to write an extensive profile extolling the liquid treasures of his collection, Roth finds himself the victim of a world-class wine heist. Enter Sam Levitt, former corporate, cultivated crime expert, and wine connoisseur, who follows his leads as he tracks down the source of a multimillion dollar wine heist--a trail that leads him to Bordeaux and its magnificent vineyards, and to Provence to meet an eccentric billionaire collector who might possibly have an interest in the stolen wines.

Published Reviews
Booklist Review:
"Never was a novel more aptly titled than this latest effort by Englishman Mayle, who has staked out the south of France not only as his personal stomping grounds but also as the setting for numerous delightful books, both fiction and nonfiction, beginning, of course, with A Year in Provence (1990), a delectable account of Mayle's experiences in his adopted homeland. The vintage part of this title refers to rare and expensive wine. The caper part adds the element of stolen rare and expensive wine. Danny Roth is a Hollywood lawyer whose wine collection is his pride and joy. One day a major portion of that collection turns up missing, and his insurance company before handing over the $3 million Roth feels the bottles are worth hires an investigator to look into the matter. The California setting soon gives way to Mayle's trademark south of France, and the trail to resolving the case provides a richly atmospheric ride for the reader. Mayle delivers what is almost a French version of Robert B. Parker's Spenser novels: good, clean writing; a sophisticated and mouthwatering use of food and wine as the story's upholstery; and a quick yet captivating plot, well sprinkled with humor. This novel is a special invitation for newbies to begin appreciating Mayle's talent as a writer.--Hooper, Brad Copyright 2009 Booklist"
From Booklist, Copyright (c) American Library Association. Used with permission.
Publisher's Weekly Review:
"Mayle uncorks a winning wine caper in the tradition of To Catch a Thief. When a hot-shot Hollywood lawyer's most treasured and expensive wines are stolen, his insurance company calls in Sam Levitt, a gourmand and lawyer-of-all-trades with a varied background, to investigate. The investigation takes Sam to Paris and Bordeaux, where he hooks up with the elegant insurance agent Sophie Costes, a fellow wine and food snob. The trail finally leads them to a man named Francis Reboul in Marseille, and soon, with the help of Sophie's journalist cousin, Phillipe, they get an in with Reboul and close in on closing the caper. While the plot may be predictable, the pleasures of this very French adventure-and there are many-aren't in the resolution, of course, but in the pleasant stroll through the provinces and in the glasses of wine downed and decadent meals consumed. (Oct.) (c) Copyright PWxyz, LLC. All rights reserved"
(c) Copyright PWxyz, LLC. All rights reserved
Additional Information