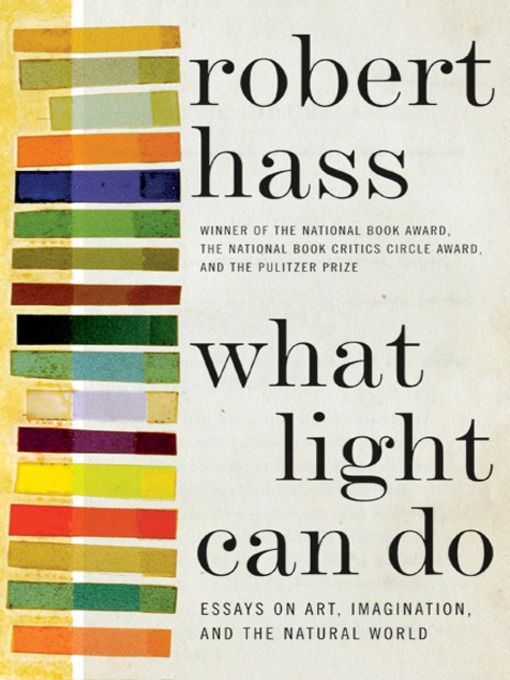 What light can do essays on art, imagination, and the natural world
Format:

Kindle Book

2012

2012

Adobe EPUB ebook

OverDrive Read

Availability:

Available from OverDrive

1 of 1 copy
Summary
"[A] collection of essays on writers, place, poetry, and photography--with accompanying photos throughout"--Flap p. 1 of dust jacket.

Contents
A miscellany of short pieces to begin. Wallace Stevens in the world
Chekhov's anger
Howl at fifty
The kingdom of reversals : notes on Hosoe's Mishima
George Oppen : his art
Ernesto Cardenal : a Nicaraguan poet's beginning
A longer essay on literature and war. Study war no more : violence, literature and Immanuel Kant
Some California writers. Jack London in his time : Martin Eden
Mary Austin and The land of little rain
The fury of Robinson Jeffers
William Everson : some glimpses
Maxine Hong Kingston : notes on a woman warrior
Poets and the world. Ko Un and Korean poetry
Milosz at eighty
Milosz at ninety-three
Poetry and terror : some notes on Coming to Jakarta
Zukofsky at the outset
Tomaž Šalamun : an introduction
A bruised sky : two Chinese poets
Two essays on literature and religion. Reflections on the Epistles of John
Notes on poetry and spirituality
Three photographers and their landscapes. Robert Adams and Los Angeles
Robert Buelteman and the Coast Range
Laura McPhee and the river of no return
Three essays on (mainly) American poetry. On teaching poetry
Families and prisons
Edward Taylor : how American poetry got started
Imagining the earth. Cormac McCarthy's trilogy, or, The Puritan conscience and the Mexican dark
Black nature
Rivers and stories : an introduction
An oak grove.
Published Reviews
Booklist Review:
"Hass writes essays, he tells us, around the edges of the practice of poetry. A National Book Award and Pulitzer Prize-winning former U.S. poet laureate with a deciphering eye for art, a commitment to history and justice, and a passion for scholarship and translation, Hass loves the essay form because it is an act of attention. Drawn to compelling subjects that he makes his own, Hass writes prose every bit as zestful, penetrating, and sure-footed as his poetry. In this gathering of 30-plus critical, biographical, and argumentative essays spanning 20 years, he addresses questions of creativity and conscience. Here are searchlight pieces on Ginsberg's Howl and Immanuel Kant's On Perpetual Peace, Korean and Chinese poets, and Hass' fellow Californian writers, among them Jack London and Mary Austin. Further essayistic forays involve a roof-raising inquiry into the Iraq War, acute analysis of landscape photography, awe over oak trees and cranes, and concern about how we treat the earth. This powerhouse collection affirms Hass' stature as a philosophically attentive observer, deep thinker, and writer who dazzles and rousts.--Seaman, Donna Copyright 2010 Booklist"
From Booklist, Copyright (c) American Library Association. Used with permission.
Publisher's Weekly Review:
"In this erudite and engaging collection of more than 30 essays, poet and UC-Berkeley professor Hass (Time and Materials) covers topics as eclectic as the lives of great writers; art's relationship to violence; spirituality; the landscape photography of California; the underappreciated canon of black nature writing; and the experience of teaching poetry. "The essay as a form is an act of attention," Hass writes in the introduction, and his attentions are wide-ranging; each overstuffed piece is an opportunity for meandering digression and fruitful association. Hass's passionate admiration for his fellow men and women of letters-including Jack London, Maxine Hong Kingston, Czeslaw Milosz, Allen Ginsberg, and Cormac McCarthy-animates his prose. The best essays transcend their subject matter, becoming works of literature in their own right. These meditations, such as "Robert Adams and Los Angeles," which reflects on the photographer's vision of California, and "An Oak Grove," a requiem for the felled trees of the Berkeley campus, fuse the poet's love of language with the scholar's interest in context, demonstrating the truth of Hass's own claim that "the deepest response to a work of art is, in fact, another work of art." (Aug.) (c) Copyright PWxyz, LLC. All rights reserved."
(c) Copyright PWxyz, LLC. All rights reserved
Additional Information