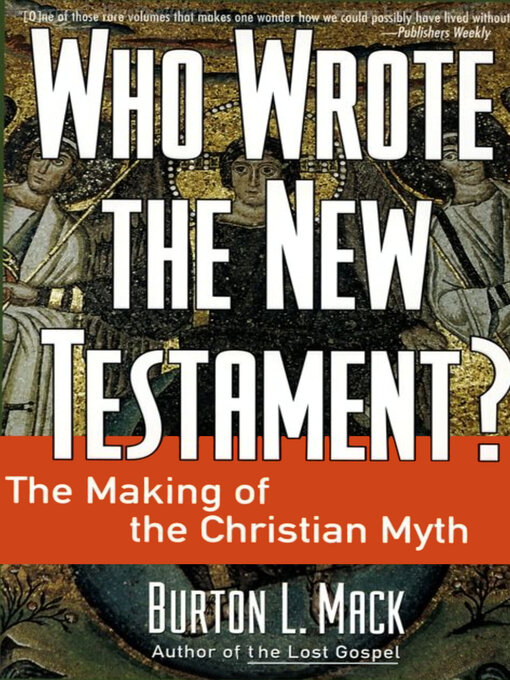 Who wrote the New Testament? the making of the Christian myth
Format:

Kindle Book

2013

2013

Adobe EPUB ebook

OverDrive Read

Availability:

Available from OverDrive

1 of 1 copy
Summary
The making of the Christian myth.

Contents
Prologue: The mystique of sacred scripture
Jesus and the Christ. Clashing cultures
Teaching from the Jesus movements (Q, pronouncement stores, Gospel of Thomas, miracle stories, the pillars in Jerusalem)
Fragments from the Christ cult (Christ myth, ritual meal, Christ hymn)
Christ and the hinge of history. Paul and his gospel (1 and 2 Thessalonians, Galatians)
Paul's' letters to Greeks and Romans (1 and 2 Corinthians, Romans, Philemon, Philippians)
Gospels of Jesus the Christ (Mark, Matthew, Luke)
Visions of the cosmic Lord (John, Colossians, Ephesians, Hebrews, Revelation)
Letters from the apostles (Pastoral epistles, Catholic epistles, James, Johannine letters)
History and the Christian myth. Inventing Apostolic traditions (Acts, Didache, 1 Clement, Ignatius)
Claiming Israel's epic (Marcion, Valentinus, Justin Martyr)
Creating the Christian Bible (Canons, Mishnah, Eusebius, Jerome)
Epilogue: The fascination of the Bible
Appendices: Early Christian literature ; The contents of Q ; The pronouncement stories in Mark.
Published Reviews
Booklist Review:
"Certainly Mack's book should take a place in the front ranks of the many fine introductions available to students of the New Testament in both academic and nonacademic settings. A comprehensive synthesis of New Testament scholarship that is nevertheless popularly accessible, it will make a particularly useful introductory text in an area where such texts are in great demand. But it is more than an excellent introduction. As the subtitle suggests, the book is also a critical account of the making of the Christian myth--an invitation to critical reflection on the social construction of a foundational epic that has shaped (and been shaped by) the history and behavior of the West since Constantine. That makes it an introduction to mythmaking that is more than a colonial criticism or classification of other people's myths; it is an invitation to cultural self-criticism, an invaluable contribution to liberal education that is a potentially important corrective to triumphalist practices as tempting in our multicultural age as they were in the multicultural matrix out of which Christian scripture emerged. --Steve Schroeder"
From Booklist, Copyright (c) American Library Association. Used with permission.
Publisher's Weekly Review:
"Mack's (The Lost Gospel; A Myth of Innocence) newest book is one of those rare volumes that, upon completion, makes one wonder how we could possibly have lived without it. The clarity of Mack's prose and the intelligent pursuit of his subject make compelling reading. Of course, the question Mack asks is not one Christians have been encouraged to ask, which only adds to the book's interest. Mack's investigation of the various groups and strands of the early Christian Community'out of which were generated the texts of Christianity's first anthology of religious literature'makes sense of a topic that has often been confusing. Regrettably, in an effort to appeal to a popular audience, Mack's treatment has been pruned of much of its scholarly apparatus; his notes would have been a welcome resource. Certainly, as the number of publications emerging from Jesus Seminar draw attack from conservative seminaries, such apparatus will become essential, popular audience or no. Nonetheless, this is an important book; a must-read for any student of the New Testament. (Nov.) (c) Copyright PWxyz, LLC. All rights reserved"
(c) Copyright PWxyz, LLC. All rights reserved
Additional Information