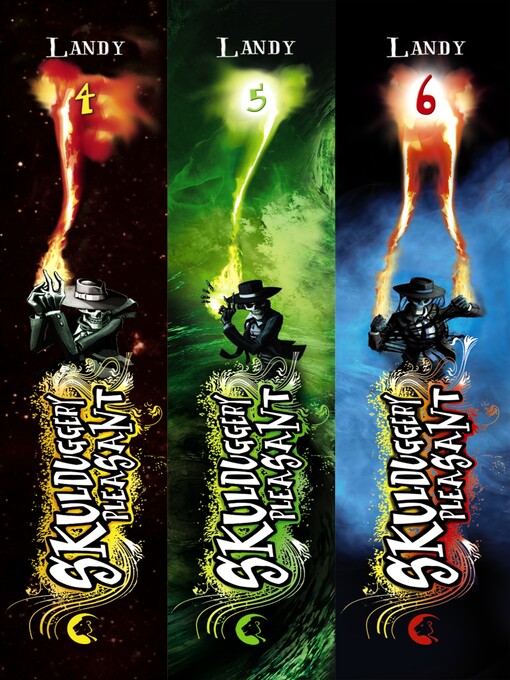 Skulduggery Pleasant.
Language:

English

German

Format:

Kindle Book

2014

2014

Adobe EPUB ebook

OverDrive Read

Availability:

Available from OverDrive

1 of 1 copy
Summary
Dieses E-Book beinhaltet die Bände 4 bis 6 der Spiegel-Bestsellerreihe um den Skelettdelektiv Skulduggery Pleasant: "Sabotage im Sanktuarium", "Rebellion der Restanten" und "Passage der Totenbeschwörer". Außerdem ist die Kurzgeschichte "Die vergessene Kunst der Weltbeherrschung" exklusiv nur in diesem Bundle enthalten. Sabotage im SanktuariumSeit der großen Schlacht ist Skulduggery Pleasant in der Welt der Gesichtslosen verschwunden. Nur ein Wunder kann ihn jetzt noch retten - oder Walküre: Sie muss ganz schnell seinen Kopf finden, der ihm einst von drei Kobolden in Irland gestohlen wurde. Während Walküre um die halbe Welt reist, wird der Magier Skarabäus nach 200 Jahren Gefängnis entlassen. Zwar hat er seine Zauberkräfte eingebüßt, doch seine Rachelust ist ungebrochen. Sofort schart er einen Kreis der schlimmsten Übeltäter um sich, unter ihnen auch Remus Crux, der die Seiten gewechselt hat. Sie alle können Skulduggerys Rückkehr kaum erwarten - denn jeder Einzelne von ihnen hat noch eine Rechnung mit ihm offen! Rebellion der RestantenHilfe, die Restanten sind los! Durch einen dummen Zufall konnte der Restant der Totenbeschwörer fliehen und seine Brüder und Schwestern im Hotel Mitternacht befreien. Nun nimmt die teuflische Truppe Kurs auf Dublin, wo ihre "Retterin" weilt: Darquise, die mächtige Zauberin, die die Welt vernichten soll. Alle Magier fürchten sie, aber niemand weiß, wer sie ist. Niemand außer Walküre - denn sie ist Darquise!Da Walküre jedoch Besseres zu tun hat, als die Welt in Schutt und Asche zu legen, will sie ihr schreckliches Schicksal ändern. Allein. Nicht einmal Skulduggery weiht sie ein. Doch wer allein kämpft, droht auch, allein zu sterben. Passage der TotenbeschwörerWieder einmal müssen Skulduggery und Walküre die Menschheit retten. Oder besser: die Hälfte der Menschheit. Denn die Totenbeschwörer haben endlich ihren Todbringer gefunden, der ihnen allen das ewige Leben bescheren soll...

Contents
bk. 7. Kingdom of the wicked
bk. 8. Last stand of dead men
bk. 9. The dying of the light.
Additional Information