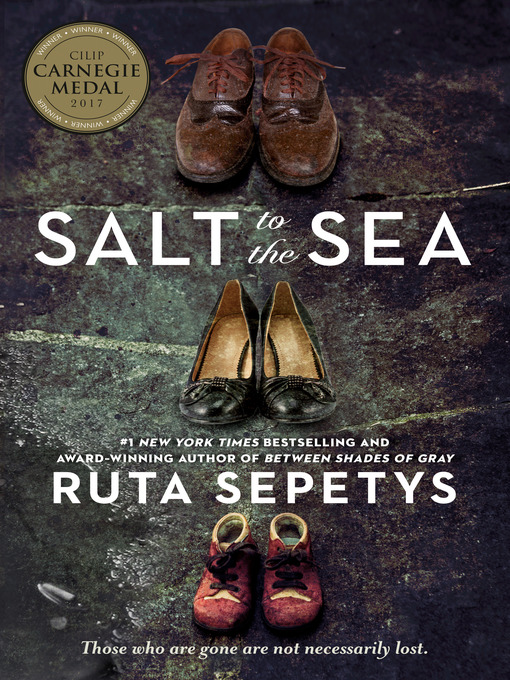 Salt to the sea a novel
Format:

Kindle Book

2016

2016

Adobe EPUB ebook

OverDrive Read

Availability:

Unavailable

0 of 6 copies
5 people on waitlist
Summary
"As World War II draws to a close, refugees try to escape the war's final dangers, only to find themselves aboard a ship with a target on its hull"--

Published Reviews
Booklist Review:
"*Starred Review* Shipwrecks and maritime disasters are of fathomless fascination, with ships such as the Titanic and the Lusitania household names. It's interesting that the sinking of the Wilhelm Gustloff during WWII, which led to the largest loss of life on a single ship in history, goes largely unremarked upon at least in America. The numbers are staggering: far over capacity, the ship was carrying approximately 10,582 passengers when it was struck by Soviet torpedoes, and more than 9,400 of those passengers perished in the ensuing wreck, a death toll that dwarfs the Titanic's assumed losses (around 1,500). Part of the neglect might be due to timing. The ship was evacuating refugees and German citizens from Gotenhafen, Poland, when it was sunk in the Baltic Sea in the winter of 1945. Astounding losses defined WWII, and this became yet another tragedy buried under the other tragedies after all, even 9,400 is dwarfed by 60 million. But it was a tragedy, and, like all tragedies, it broke the people involved down to their barest parts. Sepetys has resurrected the story through the eyes of four young characters trying to reach safety as the Russian army advances: Joana, a Lithuanian nurse; Emilia, a pregnant Polish 15-year-old; Florian, a Prussian artist carrying dangerous cargo; and Alfred, a German naval soldier stationed on the Wilhelm Gustloff. Each has been touched by war and is hunted by the past, and, determined to get on a boat in any way possible, hurtling unknowingly toward disaster. With exquisite prose, Sepetys plumbs the depths of her quartet of characters, bringing each to the breaking point and back, shaping a narrative that is as much about the intricacies of human nature as it is about a historical catastrophe. Nominated for the Morris Award for her first novel, Between Shades of Gray (2011), Sepetys returns to those roots with another harrowing, impeccably researched story of hardship and survival in Eastern Europe. When reading a book so likely to end in tears, one inclination is to avoid getting attached to any of the characters, but that's next to impossible here, so thoroughly does Sepetys mine their inner landscapes. That doesn't mean they are all likable as it breeds heroes, so, too, does calamity breed cowards and opportunists but it does make it difficult to think of them as anything other than real people. After all, the ship was very real. It does the people aboard a disservice not to reflect them the best one can. In many ways, the greatest punishment and the greatest of all tragedies is to be forgotten. This haunting gem of a novel begs to be remembered, and in turn, it tries to remember the thousands of real people its fictional characters represent. What it asks of us is that their memories and their stories not be abandoned to the sea.--Reagan, Maggie Copyright 2015 Booklist"
From Booklist, Copyright (c) American Library Association. Used with permission.
Publisher's Weekly Review:
"Set in East Prussia during the brutal winter of 1945, these stories of four very different teenagers-three refugees escaping their disparate war-torn homelands, and a Nazi sailor obsessed with Hitler-Intertwine when they all end up on the doomed ship Wilhelm Gustloff. The four narrators (Jorjeana Marie, Will Damron, Cassandra Morris, and Michael Crouch) are superbly cast, each taking on the role of a main character with a distinctive voice that perfectly matches his or her role: the young, vulnerable voice of Emilia, a sweet Polish 16-year-old who has suffered too much tragedy and emotional trauma; the warm, caring tones of Joana, a Latvian nurse, who is nurturing and perceptive; the deep, guarded voice of Florian, a mysterious Prussian hiding a secret; and most memorable of all, the high, thin, nasal voice of the Nazi sailor Alfred, dripping with smug arrogance and self-righteousness. The story's plot and pacing translate beautifully to the audio medium; the intimate interior monologues reveal character development while fast-paced, gripping action scenes of danger and narrow escapes create a sense of suspense. The result is a riveting audiobook that will have listeners on the edge of their seats while also educating them about a little-known but tragic chapter of WWII history. Ages 12-up. A Philomel hardcover. (Feb.) © Copyright PWxyz, LLC. All rights reserved."
(c) Copyright PWxyz, LLC. All rights reserved
Additional Information