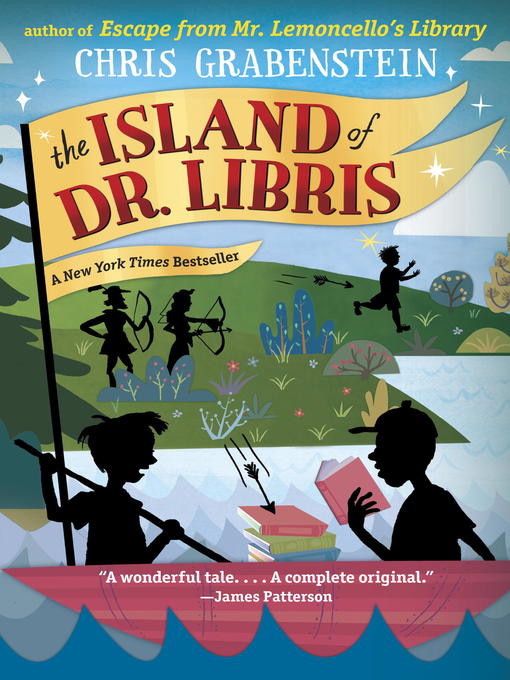 The island of Dr. Libris
Format:

Kindle Book

2015

2015

Adobe EPUB ebook

OverDrive Read

Availability:

Available from OverDrive

1 of 2 copies
Summary
A twelve-year-old boy, worried that his parents may divorce, discovers that an island in the middle of the lake where he is spending the summer is the testing grounds of the mysterious Dr. Libris, who may have invented a way to make the characters in books come alive.

Published Reviews
Booklist Review:
"Grabenstein follows up his best-selling Escape from Mr. Lemoncello's Library (2013) with another playful title paying homage to classic works of literature. Billy Gillfoyle is not thrilled at the prospect of spending his summer stuck at Dr. Libris' weird lake cabin with his mom, who's too busy finishing her dissertation to entertain him. Throw in a neighborhood bully and the potential of his parents splitting up, and Billy's summer is off to an awful start. But when the characters in the books he reads start coming to life from Hercules to Robin Hood to Pollyanna Billy's summer quickly goes from dull to adventurous, even dangerous. Grabenstein's economical prose is perfectly suited for this novel, which teems with appeal for a variety of readers, from those who will catch all the literary references to those who enjoy a good fight scene. Readers will appreciate Billy's cleverness in solving his ever-growing problems, as these literary characters make plenty of trouble outside the confines of their intended stories. Effortlessly readable and a whole lot of fun. HIGH-DEMAND BACKSTORY: The publisher is banking on the popularity of Escape from Mr. Lemoncello's Library there's a national tour and major media exposure in the works for Grabenstein's latest.--Barnes, Jennifer Copyright 2010 Booklist"
From Booklist, Copyright (c) American Library Association. Used with permission.
Publisher's Weekly Review:
"Billy is spending the summer in a cabin on a lake with no TV, internet, or video games. The cabin's owner, Dr. Libris, has a large collection of books that Billy is welcome to use if he can find the key to the bookcase cabinet. Needing distraction, Billy tackles puzzles in the library until he finds the key. He begins reading The Twelve Labors of Hercules when he looks up he notices an island in the middle of the lake where two enormous men are fighting; Billy conjured up Hercules and Antaeus simply by reading about them. Grabenstein mixes up a melange of characters from the books Billy (and eventually two neighbor children) reads, with Hercules, Robin Hood, the Three Musketeers, Maid Marian, and Pollyanna coming together in dangerous escapades. Even modern myths show up: video game creatures and wizards from trading cards. Reader Heyborne gives each a quirky trait that adds even more color to the story. For example, he gives Robin Hood a delightful over-the-top laugh; the Musketeers have recognizably French accents but are easily understandable; and the video game Space Lizard's ultra-hissy sibilant voice will give listeners shivers. Heyborne's performance conjures up the magic of literature and the excitement of summer. Ages 8-12. A Random hardcover. (Mar.) © Copyright PWxyz, LLC. All rights reserved."
(c) Copyright PWxyz, LLC. All rights reserved
Additional Information