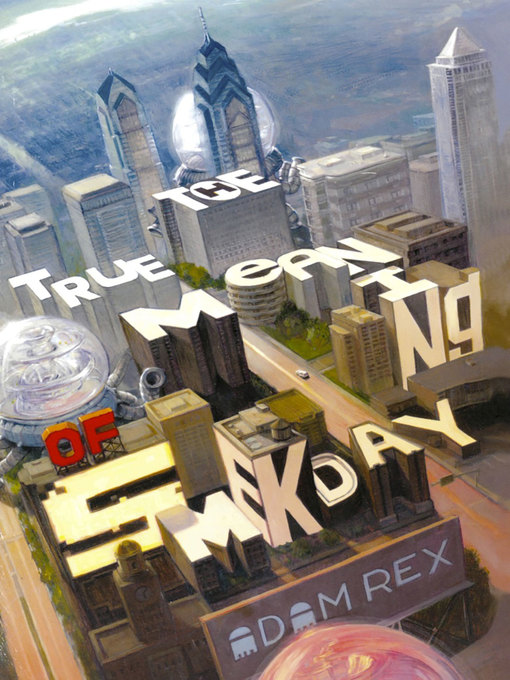 The true meaning of Smekday
Format:

Kindle Book

2012

2020

Adobe EPUB ebook

OverDrive Read

Availability:

Available from OverDrive

2 of 2 copies
Summary
In the chaotic turmoil that follows the Boov invasion of Earth, eleven-year-old Gratuity Tucci finds herself driving her mother's car to Florida, where all of the humans are being relocated, with her cat and a renegade extraterrestiral named J. Lo as her copilots.

Published Reviews
Booklist Review:
"Eleven-year-old Gratuity Tucci is assigned to write an essay, The True Meaning of Smekday, explaining the significance of the day that the alien Boov, led by Captain Smek, took over Earth. Gratuity describes her journey across an occupied U.S. to rescue her mom, who has been abducted by the Boov. A renegade alien named J.Lo joins her quest, and together they return the planet to human control, while also defeating the mean-tempered Gorg, Boov rivals hoping to conquer Earth themselves. J.Lo's characterization, including his humorous clipped English and the touching sibling relationship he forges with Gratuity, help smooth out an otherwise sputtering narrative that is prone to tangential wanderings. Still, this mixed-media work, comprising letters, photos, and Rex's hilarious comics (among them, a strip entitled J.Lo's 8 Things You Have Always Wanted to Know about the Gorg but Were Afraid to Ask the Gorg Because the Gorg Might Punch You in the Face ) is guaranteed to tickle the middle-school funny bone.--Hubert, Jennifer Copyright 2007 Booklist"
From Booklist, Copyright (c) American Library Association. Used with permission.
Publisher's Weekly Review:
"Who knew the end of the world could be so hilarious? With a misfit cast of characters led by a precocious 11-year-old narrator named Gratuity "Tip" Tucci and a bumbling alien named J.Lo who has an appetite for dental floss and air fresheners, Rex's high-octane fantasy could fairly be called an apocalyptic comedy. After the Boov (technologically advanced aliens) conquer Earth (or Smekland, as they call it, after its discoverer), they decide that humans must live on preserves; all Americans must move to Florida. Tip, driving her mother's car with her cat Pig for a passenger, meets the unexpectedly helpful Boov J.Lo, who, she later discovers, has bungled a mission and is on the lam. Parallels between the Boov and European settlers and their treatment of Native Americans deepen the impact of the story, but the author goes well beyond delivering a single political message. Incorporating dozens of his weird and wonderful illustrations and fruitfully manipulating the narrative structure, Rex skewers any number of subjects, from Disney World to various fleeting fads. Some of the best jokes come from throwaways and from J.Lo's and Tip's attempts to understand each other (when Tip asks if his society has boys and girls, he says, "Of course. Do not to be ridicumulous," and calmly lists the "seven magnificent genders" of the Boov). Picture book aficionados will already know Rex from Frankenstein Makes a Sandwich and Pssst! (reviewed Sept. 10); now another audience can savor his wit. Ages 8-up. (Oct.) (c) Copyright PWxyz, LLC. All rights reserved"
(c) Copyright PWxyz, LLC. All rights reserved
Additional Information