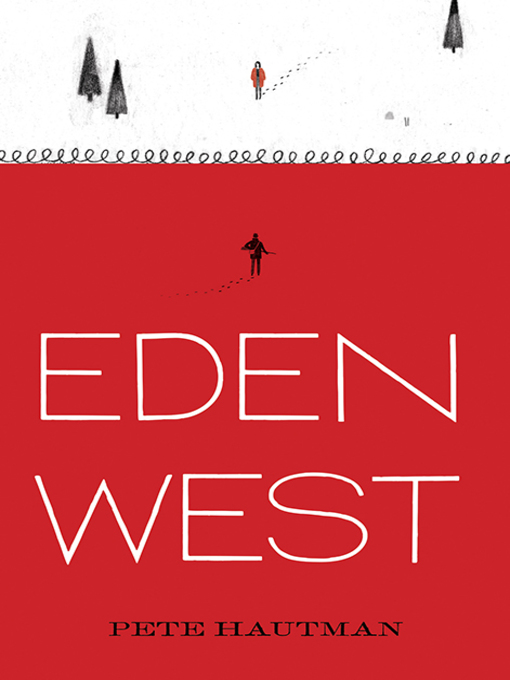 Eden West
Format:

Kindle Book

2015

2015

Adobe EPUB ebook

OverDrive Read

Availability:

Unavailable

0 of 1 copy
Summary
Tackling faith, doubt, and transformation, National Book Award winner Pete Hautman explores a boy's unraveling allegiance to an insular cult. Twelve square miles of paradise, surrounded by an eight-foot-high chain-link fence: this is Nodd, the land of the Grace. It is all seventeen-year-old Jacob knows. Beyond the fence lies the World, a wicked, terrible place, doomed to destruction. When the Archangel Zerachiel descends from Heaven, only the Grace will be spared the horrors of the Apocalypse. But something is rotten in paradise. A wolf invades Nodd, slaughtering the Grace's sheep. A new boy arrives from outside, and his scorn and disdain threaten to tarnish Jacob's contentment. Then, while patrolling the borders of Nodd, Jacob meets Lynna, a girl from the adjoining ranch, who tempts him to sample the forbidden Worldly pleasures that lie beyond the fence. Jacob's faith, his devotion, and his grip on reality are tested as his feelings for Lynna blossom into something greater and the End Days grow ever closer. Eden West is the story of two worlds, two hearts, the power of faith, and the resilience of the human spirit.

Published Reviews
Booklist Review:
"*Starred Review* Jacob lives in Nodd, a fenced-in compound in Montana run by Father Grace, who demands faith, loyalty, and a total rejection of the outside world. Men and women are separated, all work hard to sustain their land and livestock, and disobedience is severely punished. It's all Jacob knows, though he has a few fleeting memories of his life before, and he has internalized Father Grace's ideas about condemnation, penance, and the impending doomsday. In his matter-of-fact voice, laced with old-fashioned turns of phrase and a parochial vocabulary, Jacob narrates the story of Nodd's downfall, beginning with the appearance of a wolf that preys on their sheep and a chance meeting with a beautiful, worldly girl on the other side of the fence as well as the arrival of an angry outsider who's desperate to leave. Is Father Grace truly a conduit for the divine? Can Jacob be righteous even if he strays from Nodd's strict path? And what, exactly, constitutes goodness? While projecting a unique and expressive voice in Jacob, Hautman sensitively and gracefully explores powerful ideas about faith and church communities, keeping a deft balance between criticism of religious fervor and deep respect for faith and belief. Thought-provoking and quietly captivating.--Hunter, Sarah Copyright 2015 Booklist"
From Booklist, Copyright (c) American Library Association. Used with permission.
Publisher's Weekly Review:
"In this haunting drama, Hautman (the Klaatu Diskos trilogy) gets inside the head of a teenage boy who has grown up as part of an apocalyptic Christian cult in Montana. Seventeen-year-old Jacob is part of the Grace, a community that dwells in the so-called land of Nodd while waiting for the Archangel Zerachiel to return and destroy the unbelievers of the outside World. During an eventful year, Jacob's faith and beliefs are tested repeatedly as the Grace suffers losses and tragedies, with its members dying or departing and newcomers acting like snakes in the Garden. When Father Grace takes the girl Jacob loves as yet another wife, Jacob's disillusionment grows, but it's Lynna, the beguiling, Worldly girl from next door who tempts him with outside delights and a sense of freedom. Hautman captures the cultish mind-set easily while showing just how fragile its foundation can be. Jacob is sympathetic in his role as conflicted believer, though the sheer number of tribulations facing the Grace turns Jacob's crisis of faith into something of an inevitability. Ages 14-up. Agent: Jennifer Flannery, Flannery Literary. (Apr.) © Copyright PWxyz, LLC. All rights reserved."
(c) Copyright PWxyz, LLC. All rights reserved
Additional Information