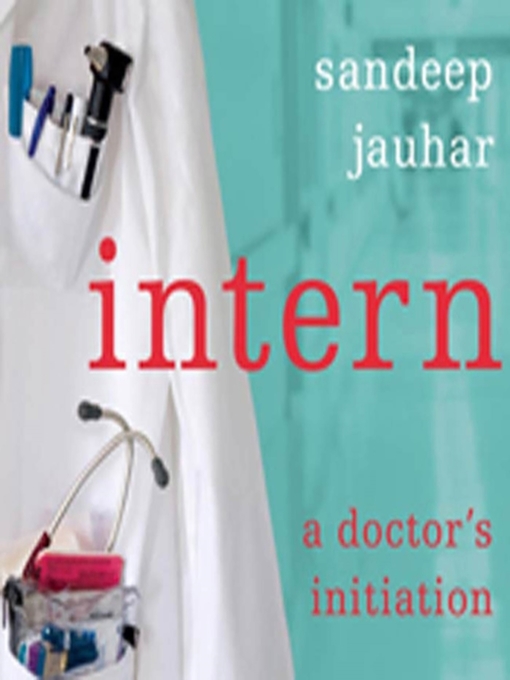 Intern a doctor's initiation
Format:

OverDrive MP3 Audiobook

2008

2008

OverDrive Listen

Availability:

Unavailable

0 of 1 copy
1 person on waitlist
Summary
Sandeep Jauhar's story of his days and nights in residency at a busy hospital in New York City, a trial that led him to question his every assumption about medical care today.

Published Reviews
Booklist Review:
"Most stories of medical internship begin with a young kid who knows from an early age that he or she wants to be a doctor. Not so Jauhar. Although it was his parents' dream that one day both their sons would become physicians, as a college student this young man's interests bounced from history to political science to journalism, law, and, ultimately, physics. So it came as no small surprise to him that, when he applied for admission to medical school, he was accepted. Thereafter, as an intern at New York Hospital, surprise seemed to sneak up on him repeatedly as he struggled with, first, the idealism 95 percent of med students possess, then with his own self-doubts. It seemed there were few days when he failed to ask himself whether medicine was the right choice. Indeed, what sets Jauhar's internship story apart from the norm is his candor about how he overcame this internal conflict to become, eventually, director of the Heart Failure Program at Long Island Jewish Medical Center.--Chavez, Donna Copyright 2007 Booklist"
From Booklist, Copyright (c) American Library Association. Used with permission.
Publisher's Weekly Review:
"Jauhar, a cardiologist who directs the Heart Failure Program at Long Island Jewish Medical Center, completed his internship a decade ago, but still remembers his confusing, tumultuous medical apprenticeship at the prestigious New York Hospital "the way soldiers remember war." The son of an embittered immigrant plant geneticist who found the American university tenure system racist, Jauhar dithered over career choices and completed a doctorate in physics before embarking on medicine. Jauhar feels responsible when he botches the blood pressure check on a patient who later dies during an aortic dissection and when he misses the high blood sodium level of a man who then suffers irreversible brain damage. He wonders if he and his colleagues have discriminated against a cardiac patient because of his weight, and helps an advanced cancer patient's wife decide against the futile insertion of a breathing tube. As his internship progresses, he romances his future wife (an affair he describes with the passion of one buying a used car); cracks under self-doubt and the expectations of his traditional Indian family, and suffers a serious depression. He regrets that as a doctor he is sometimes impatient, emotionless and paternalistic. Although Jauhar carefully elucidates complex medical terminology for lay readers, his thoughtful, valuable memoir will be most relevant to medical students and interns experiencing similar crises. (Jan.) (c) Copyright PWxyz, LLC. All rights reserved"
(c) Copyright PWxyz, LLC. All rights reserved
Additional Information