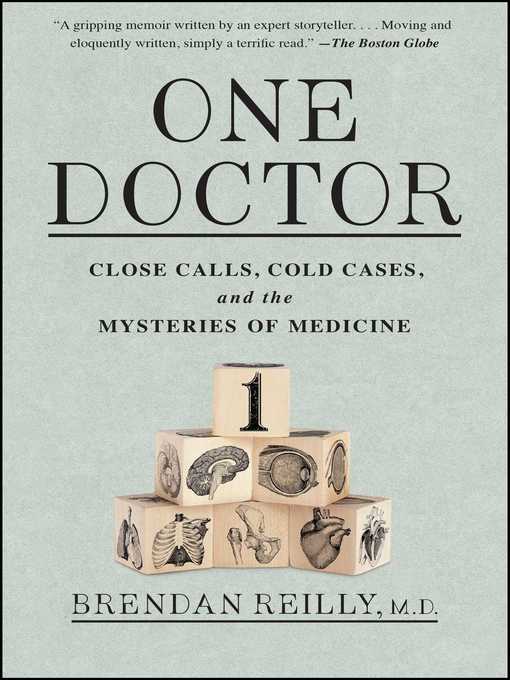 One Doctor
Format:

Kindle Book

2013

2013

Adobe EPUB ebook

OverDrive Read

Availability:

Available from OverDrive

1 of 1 copy
Summary
An epic story told by a unique voice in American medicine, One Doctor describes life-changing experiences in the career of a distinguished physician. In riveting first-person prose, Dr. Brendan Reilly takes us to the front lines of medicine today. Whipsawed by daily crises and frustrations, Reilly must deal with several daunting challenges simultaneously: the extraordinary patients under his care on the teeming wards of a renowned teaching hospital; the life-threatening illnesses of both of his ninety-year-old parents; and the tragic memory of a cold case from long ago that haunts him still. As Reillys patients and their families survive close calls, struggle with heartrending decisions, and confront the limits of medicines power to cure, One Doctor lays bare a fragmented, depersonalized, business-driven health-care system where real caring is hard to find. Every day, Reilly sees patients who fall through the cracks and suffer harm because they lack one doctor who knows them well and relentlessly advocates for their best interests. Filled with fascinating characters in New York City and rural New Englandpeople with dark secrets, mysterious illnesses, impossible dreams, and many kinds of courage One Doctor tells their stories with sensitivity and empathy, reminding us of professional values once held dear by all physicians. But medicine has changed enormously during Reillys career, for both better and worse, and One Doctor is a cautionary tale about those changes. It is also a hopeful, inspiring account of medicines potential to improve peoples lives, Reillys quest to understand the "truth" about doctoring, and a moving testament to the difference one doctor can make.

Published Reviews
Booklist Review:
"Reilly's medical narrative nicely intertwines true stories of challenging patients ­difficult diagnoses, tough medical and ethical decisions, and the management of critically ill people with valuable lessons on doctoring and patienthood. A fever of unknown origin, profound thyroid deficiency, severe hypoglycemia, chest pain, delirium, bleeding bladder cancer, and life-threatening infection of a heart valve are some of the medical problems encountered. Reilly, a hospital physician with 40 years of experience, also recounts caring for his elderly parents. He writes about the importance of grunt work in medicine, sustained doctor-patient relationships, and clinical instinct. The doctor confesses, Over the years I've learned to listen to my gut, but that doesn't mean I can trust it. Indeed, medical decision making can be hard and hazardous. Risk and probability always factor into it. A medical problem can be handled in multiple ways, but outcomes are never guaranteed. Benefit and harm are both possibilities. Reilly admits that physicians know lots about regret but rarely discuss it. Empathy and thoughtfulness One Doctor has oodles of it.--Miksanek, Tony Copyright 2010 Booklist"
From Booklist, Copyright (c) American Library Association. Used with permission.
Publisher's Weekly Review:
"Narrator Shapiro turns in a warm, engaging performance in the audio edition of this fascinating behind-the-scenes look at the practice of medicine. Reilly, a physician for more than 40 years, looks back at his career, the patients he's treated, and the ways medicine has changed. Interspersed with remembrances of numerous medical cases is the moving story of Reilly coming to terms with the declining health of his elderly parents. Shapiro is perfectly cast: he handles the book's medical jargon with ease, and his clear, sensitive reading captures the reflective nature of the material. Shapiro never resorts to melodrama; instead he moves the story along with an easy bedside manner. This fine pairing of author and reader results in an honest, thought-provoking, and moving listen. An Atria hardcover. (Jan.) (c) Copyright PWxyz, LLC. All rights reserved."
(c) Copyright PWxyz, LLC. All rights reserved
Additional Information