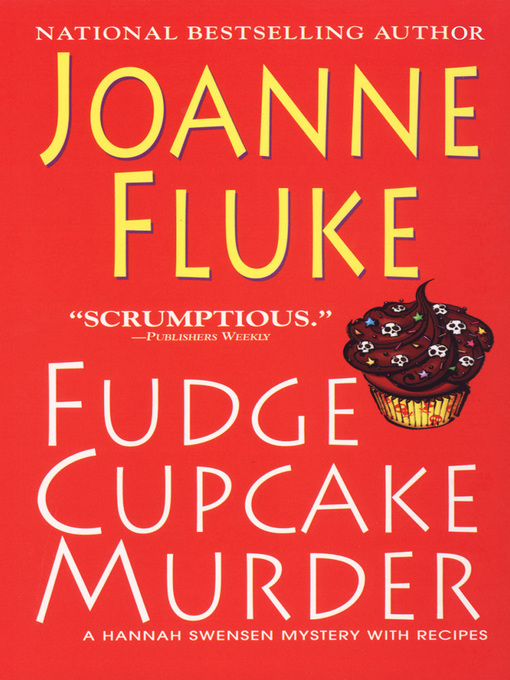 Fudge cupcake murder
Format:

Kindle Book

2011

2013

Adobe EPUB ebook

OverDrive Read

Availability:

Unavailable

0 of 2 copies
1 person on waitlist
Summary
Bakery owner Hannah Swensen just can't keep her hands out of the batter when murder stirs things up in Lake Eden, Minnesota, leaving the sheriff dead, a deputy accused, and a killer on the loose. . . For Hannah, life seems to be lacking a certain flavor lately. Maybe it's the local sheriff's election that's got her down. For years, Sheriff Grant's been the iron hand in town. But now, Hannah's brother-in-law Bill is giving the old blowhard the fight of his long, dubious career--and Grant's not taking it well, especially once the polls show Bill pulling ahead. But before anyone can taste victory, things go sour. While Hannah's emptying the trash, she makes a very unappetizing discovery: Sheriff Grant's body in the Dumpster behind the high school where she's teaching her cooking class. And as if that weren't bad enough, the poor man still has fudge frosting on his shirt from one of her cupcakes. The number one--and only--suspect is Bill, but Hannah's not swallowing it. Plenty of people had reason to hate Sheriff Grant. Soon, Hannah's dishing up scandalous secrets, steaming hot betrayals, and enough intrigue to keep the gossip mill at The Cookie Jar going through several pots of decaf. And the closer Hannah gets to the truth, the closer she gets to smoking out a murderer with a very nasty recipe for silencing people. . . Includes Ten Original Dessert Recipes For You To Try!"For fans of culinary mysteries."--Library Journal"Fudge Cupcake Murder should not be read on an empty stomach because there are mouth-watering recipes and descriptions of desserts in almost every chapter." --The Midwest Book Review.

Published Reviews
Publisher's Weekly Review:
"In Fluke's scrumptious fifth culinary cozy (after 2003's Lemon Meringue Pie Murder), Lake Eden, Minn., bakery owner Hannah Swensen discovers the fudge-stained corpse of overbearing, unscrupulous Sheriff Grant in a trash receptacle near her cooking school. Hannah's brother-in-law Bill is the prime suspect in the bludgeoning of his rival for the upcoming sheriff's election, so Hannah's about-to-deliver pregnant sister, Andrea, frantically begs her investigative assistance. And to kick it up a notch, HannahÆs current red-hot squeeze, the acting sheriff, suspends Bill from the force, causing Hannah to come to a rolling boil. Moishe, Hannah's engaging cat, gives her more grief than comfort as he adjusts stubbornly to his dotage. While Hannah tries to identify the essential ingredient of a certain cupcake formula taken to the grave by a deceased local homemaker, most readers will have figured out who the real killer is long before Hannah does. Mix unsavory small-town scandals, an annoying marriage-minded mother and quirky, sweet-toothed locals; add a generous dollop of humor and romantic foible; sprinkle with intriguing recipes; and you have a slightly cloying though satisfying fireside read."
(c) Copyright PWxyz, LLC. All rights reserved
Additional Information