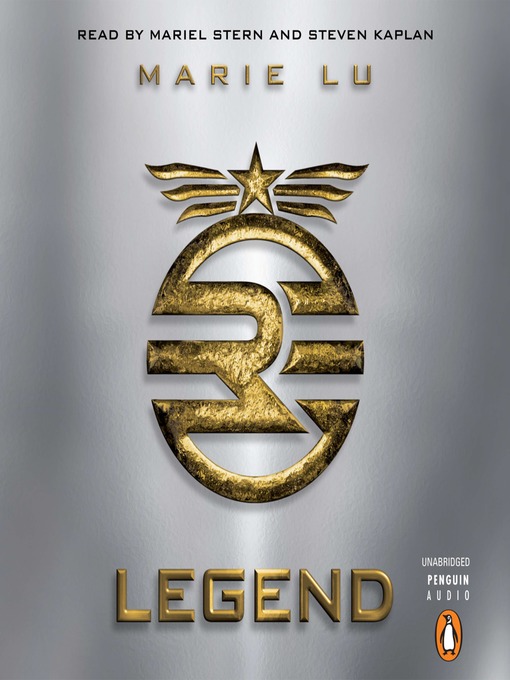 Legend
Format:

OverDrive MP3 Audiobook

2011

2011

OverDrive Listen

Availability:

Unavailable

0 of 2 copies
2 people on waitlist
Summary
In a dark future, when North America has split into two warring nations, fifteen-year-olds Day, a famous criminal, and prodigy June, the brilliant soldier hired to capture him, discover that they have a common enemy.

Published Reviews
Booklist Review:
"*Starred Review* All right, it has a plague. And, yes, it's set in some semblance of America in the not-so-distant future. Yet even with all the hordes of dystopian novels out there, this one still manages to keep readers on the edge of their seats. But even the nonstop action would mean little without Lu's well-toned ability to write characters to care about. One is June, a daughter of the Republic. Her perfect scores at the Trial have insured a great future for her. Then there is Day. A hero to the street people, he fights injustice and keeps an eye on his brothers and mothers as they try to survive. Their narratives, told in alternating and distinctively voiced chapters, describe how circumstances bring them together. Day kills June's beloved soldier brother as he tries to get medicine for his own. With cold precision, June makes it her mission to exact revenge. What happens next, in macro terms, probably won't surprise, yet the delicious details keep pages turning to learn how it's all going to play out. Combine star-crossed lovers with the need to take down the Republic, and you've got the makings for a potent sequel.--Cooper, Ilene Copyright 2010 Booklist"
From Booklist, Copyright (c) American Library Association. Used with permission.
Publisher's Weekly Review:
"Lu's debut is a stunner. Weaving the strands of SF dystopia, police procedural, and coming-of-age-with touches of superhero and wild frontier traditions-she fashions a narrative in which the action is kinetic and the emotional development is beautifully paced. June, a prodigy from the elite class of the disintegrating Republic, is being groomed for a military career when her brother, a captain, is murdered. June is quickly drafted into the team tracking his accused killer, a spectral and maddeningly persistent outlaw known as Day. June's life has been shaped by intellect, and to be driven by an emotion as ungovernable as grief makes her vulnerable in painful, dangerous ways. Day has known grief all of his life, but is no more immune to it than June is. The chase unfolds against a plague-infested Los Angeles of Gotham-like grit that Lu conjures with every nuance of smell, sound, and sight. First in a series, this story is utterly satisfying in its own right and raises hopes high for the sequels to come. Ages 12-up. (Nov.) (c) Copyright PWxyz, LLC. All rights reserved."
(c) Copyright PWxyz, LLC. All rights reserved
Additional Information