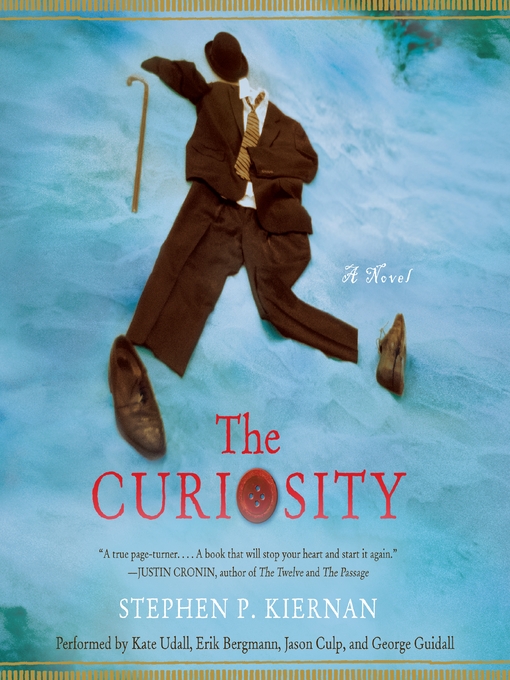 The curiosity
Format:

OverDrive MP3 Audiobook

2013

2013

OverDrive Listen

Availability:

Available from OverDrive

1 of 2 copies
Summary
After discovering the body of a man buried deep in the Arctic ice, Dr. Kate Philo and her team bring him back to life in their Boston lab, igniting a media firestorm that forces them to decide how far they are willing to go to protect their experiment.

Published Reviews
Booklist Review:
"*Starred Review* In this smart, heady, and irresistible science thriller, award-winning journalist Kiernan's first novel, newly credentialed scientist Kate Philo, who has cast her lot with the shamelessly egotistical and ruthlessly ambitious Erastus Carthage, makes an astounding find in the Arctic. With an eye on the lucrative field of cryogenics, the crew, including a pot-smoking Deadhead genius, is searching for marine creatures embedded in icebergs that they can reanimate. Instead, they find a frozen man. Back in Boston, in a classic mad-scientist scene, they succeed in resurrecting Jeremiah Rice, a Massachusetts judge who was believed drowned in 1906. Soon religious extremists are protesting the blasphemous Lazarus Project, and the media, including a lecherous journalist who believes he has exclusive access, are in a feeding frenzy. Carthage's greed goes into overdrive, and defiant Kate insists that Jeremiah be treated as a human being, not a research subject. She and the judge grow close as they venture out into the world, and forthright, courtly, and deeply moral Jeremiah becomes the most curious of celebrities as he assesses the clamorous changes a century has brought. If only his life wasn't, once again, in danger. Kiernan gets every element right in this breakneck, entertaining, and thought-provoking tale about time, mortality, the ethics of science, and the meaning of life. The film rights were instantly sold.--Seaman, Donna Copyright 2010 Booklist"
From Booklist, Copyright (c) American Library Association. Used with permission.
Publisher's Weekly Review:
"For his ambitious fiction debut, a contemporary reworking of Mary Shelly's Frankenstein, Kiernan (Authentic Patriotism) has crafted an emotionally satisfying and brisk narrative about Jeremiah Rice, a Harvard-educated judge who drowned on a scientific expedition to the Arctic in 1906. His frozen corpse is found, intact in a large iceberg, in the present day by molecular biologist Kate Philo. The evil genius Erastus Carthage, who funded the expedition, successfully reanimates Rice before a media horde. It's a clever conceit, and Kiernan milks it for all it's worth: religiously motivated protestors lambaste the feat as "blasphemy"; the media goes into a predictable frenzy; even the scientists (largely) behave horrifically in their quest for fame and fortune-except, of course, for the beautiful and kind-hearted Philo, and the even more perfect Rice, a symbol (and not much more) of a gentler, more innocent age, when people were less "vulgar." There's a sweet bit of romance between Philo and Rice, and Kiernan is good at making the science fiction sound like science fact. But the characters are never much more than mouthpieces for what appear to be the author's pieties. Still, this is a gripping novel with a clever conceit. Agent: Ellen Levine, Trident Media Group. (July) (c) Copyright PWxyz, LLC. All rights reserved."
(c) Copyright PWxyz, LLC. All rights reserved
Additional Information